I think our body is like an orchestra composed of many instruments. When we are healthy, there is a symphony in our body. And I am firmly convinced that this inner music touches a sacred part of our being.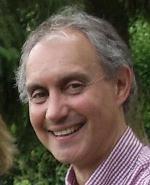 So why not saintphony ?

I'm a biologist. I began my professional carrier as a searcher in the biophysics lab of VUB and vegetal physiology lab of ULB, in the Université Libre de BRUXELLES. The purpose of my research was the study of membrane potential of photosynthetic bacteria.
At the end of my university travel, I improved my learning of computers and electronics while working as technical support in an computer company.
Then, I spend 17 years as managing director of a rest home specially dedicated to life ending therapies and care to patients affected by Alzheimer's disease or different types of dementia. In this institution, I introduced alternative therapies allowing only a very soft use and even sometimes no use of medications linked to these pathologies: SNOEZELEN therapy, Validation® Therapy and creation of a CANTOUS® common living environment. During this period I was also a school teacher for students learning the access to management of rest home. The subject of my teaching was "life project for life ending persons".
My search of alternative therapies according to a better quality of life led me to follow the Osteopathy training courses of the CREDO. This school was mostly dedicated to sacrocranial therapy, sacrocranial rhythms and energetic healing.
I'm actually an independent scientific searcher and co-founder member with Dominique Calay of CONVERGENCE company. The aim of this company is "to promote communication, relations, connexion, convergence with self connexion, with other persons and with nature".
My ongoing interest in research led me to reflect on the relationship that might exist between the sacroranial rhythms and rhythms that could be extracted from the cardiac system.
With this in mind I developed devices allowing to extrat sacrocranial wave and to interact with our body waves. Since the first prototype, other applications have emerged, including the strange relationship between our own body rhythms, music and Pytagoras music of the sphere.
As I move forward in my research, I am more and more convinced that our body is like a sacred symphony linked to our fractal universe.
Patrick BOTTE